'
Is your tween or teen playing hide and seek with apps?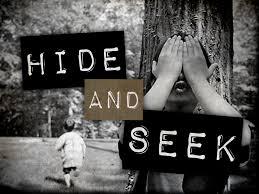 Many kids are getting smartphones at earlier and earlier ages.  Did you know that Sprint has come out with a smartphone for 5 year olds!   Personally I think this is crazy!  Most parents say that they get their child a smartphone for safety reasons, so that they can be in touch with them in a nano-second.   But isn't safety and smartphones an oxymoron?   After all the online world is hardly safe and is associated with all kinds of risks.   Just today, the Department of Homeland Security launched a program to combat online predators, because "according to officials, the chances of a child being contacted by a predator while online are higher than you make think, and it's a real threat."  Do you know the online risks that your child is exposed to? 
There are many, many apps…
Then there are apps.  Many, many apps.  They too come in all varieties.  There are many great useful, fun, organizational,  and educational apps.  Unfortunately there are also dubious apps used for 'not so great' reasons.   Some have been in the news frequently lately, like Yik Yak for facilitating anonymous cyberbullying.  Anonymous "cyberbullying" apps are a dime a dozen these days.

Then there are hook-up apps like Down.  Take a look at their home page.  This is definitely not for kids!   They boast "the secret way to get dates with friends and people nearby…  and get down whenever."  Users can sign up via Facebook.  There are thousands of underage users on Facebook.  Should kids be exposed to this?  Kids are impressionable and may think casual sex is reality.   It's bad enough that kids are easily exposed to porn online at every turn.  The harsh reality is that online sex is often depicted as violent, triple X rated.  Do we want kids to think this is normal?   One mom told me about her 10 year old daughter's accidental encounter with a porn site that depicted this type of violent sex.  Her daughter thought it was normal and became terrified.  Thank heavens she talked to her mom about it so that her mom could let her know that this is far from a normal healthy sexual relationship. 
What about video chat apps like Omegle or OoVoo?  Kids can connect with strangers and some of these apps provide location data and more graphic imagery that kids don't need to see.
Picture sharing apps are all the rage.  Snapchat is one of the most popular with twenty six million users (US) sending four hundred million snaps per day.  That's a lot of pics!  Unfortunately the app is associated with sending nude images, known as sexting.  Kids think the images disappear, but they aren't really gone forever in a ten-second-count-down as they believe.  10…9…8…7…6…5…4…3…2…1  Pic Gone!   Not so. They can be captured by others and forwarded and also remain on the sender's phone.
Are your kid's playing hide and seek with the apps they're using?
Some kids are hiding their app use.  It's all too easy to do.  How?  They may be using the hide app feature on their device.  Or they may be using a decoy app to hide their mobile activity and behavior that you may not approve of.
Steps to Hide an App on Android Devices:
To see the apps your teen may be hiding on their phone:
Decoy Apps:
Decoy apps appear to parents as innocuous which is the purpose of using them.  For example there is a decoy app that parents would believe is a calculator but that is really used to hide pictures and videos.  Here are a few of the  apps that kids use to hide what they're doing with their smartphones.  (Labels were added, parents see only plain icon not the name of the app on child's phone.)
No one ever said parenting is easy.  The digital world has made parenting kids today even tougher.  But do make an effort to find out what your kids are really using their smartphones for.   Check to see if they're hiding their apps or using decoy apps.  Consider it a labor of love!