'
What can happen when a 12 year old is online without any parental supervision?
Today a grandfather of a 12 year old tween told me his story.  While his granddaughter was visiting he discovered that she was chatting with a 19 year old man that had friended her on Facebook.  This girl had plans to meet up with this "friend."  This grandfather said that his daughter and husband didn't pay attention to what their kids do online.
He was incensed by this situation and said he wanted to "pummel" the 19 year old who was taking advantage of his sweet, naive granddaughter.  He was able to contact the 19 year old on his own and told him to immediately unfriend his grand daughter and have no further contact with her or he would get in his car, drive down to Florida and "track him down like a dog".  GrandPa lives in Massachusetts.  Fortunately, this man did as he was asked.
I asked the Grandfather if he had reported this incident to the police.  He said he wanted to handle it on his own.  When it comes to our kids, who knows how we would react facing the same situation?  I did suggest to him that the reason to report is that if this 19 year old is friending his granddaughter, then he's most likely friending other vulnerable kids.  They may not have a GrandPa in their lives to take care of the situation.  GrandPa relayed what had taken place to his daughter and son in law.  Not surprisingly they were quite shocked.  They have stepped-up and are now checking-in on their 12 year old's online activity and behavior.
How did this young girl become a target?  Having the most friends on Facebook is a status symbol among teens.  She had 257, the most of her immediate peers. 
She did not know many of these friends in real life.  Her parents are now checking her friends list to make sure that she and they know all of them.  This is really important to prevent situations like this from occurring in the first place.
Kudos to this grandfather for looking out for his granddaughter – not just offline, but online too!  The online world is a huge part of our kids' lives today.  When it comes to parenting, the online world needs to be included in the daily job of keeping our kids' safe.  There are too many risks when kids go online for parents to ignore their child's online activity.  Parents need to be a part of both worlds to teach their children, tweens and teens safe, appropriate behavior online.
What are the facts about online predators?
A recent

survey

of 9000 children in the UK found that "a fifth of girls aged 14 and 15 had been asked for meetings by strangers they had met online. And, alarmingly, one in ten had then gone on to meet them."
Other research by a University of Cincinnati pediatrician found that nearly a third of American teenage girls say that at some point they've met up with people with whom their only prior contact was online.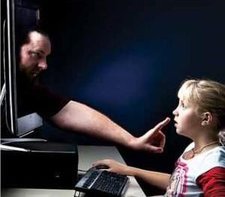 How Do Online Predators Find Their Victims?  Online predators do the following:
Find kids through social networking, photo and messaging apps, blogs, chat rooms (video), instant messaging, online bulletin boards, dating sites, virtual worlds and video games.  Sites of all types often provide a social networking function.
Seduce their unknowing victims through attention, providing a listening ear, affection, and even gifts.
Tweens and teens are often in turmoil especially with parents.  Predators listen to and sympathize with a vulnerable child's problems.
Stay on top of the most up-to-date interests of kids, such as music, movies and the latest lingo;
Work at gaining trust of their victims which is known "grooming" with the goal of having a future meeting in person.
Often lie about who they really are, including their real age, and may pose as a teen.
Here are some Online Safety Tips to discuss with your tweens and teens:
Only "friend" and connect to people online that you know personally and delete those you do not know in real life;
Don't even think about meeting up with someone your not absolutely sure is someone you know in real life;
Set social media security settings so that only confirmed "real" friends and family can see what you are posting;
Make sure that your privacy settings are set to the strongest possible;
Don't post identifying information online, like your full real name, birth-date, school, or phone number and be careful about posting pics that can identify you – such as a school athletic jersey;

Never post anything online that you wouldn't want your closest friends and family to see;
Choose screen names and usernames that are appropriate, not sexually suggestive;
Never post publicly or give anyone your phone number, e-mail address, or home address unless you know them personally;
Be aware that anyone you meet online may not be who they say they are; and
Immediately tell a parent or trusted adult if you find yourself in an uncomfortable situation online, even if you are afraid that things are getting out of control.