'
7 Tips To Making Sure Your Kids Are Behaving Safely and Appropriately: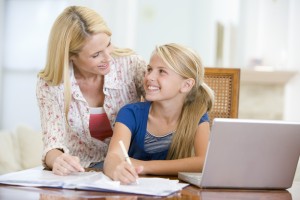 With school ending and summer vacation approaching quickly, children are likely to have more idle time on their hands to explore the internet. As wonderful as the internet can be, there are also dangers that parents and kids need to be aware of.  Take time to talk to your children about online safety and online behavior before summer begins.
1.  Have your kids read and sign the Internet Safety and Behavior Guide.
2.   Educate yourself about the online risks and internet misuse. Monitor your child, tween or teen's online activity and behavior.  Know what sites they're visiting, what their viewing, who they're engaging with online.
• sexting
• online predators
• cyberbullying
• inappropriate websites
• misuse of social networking sites
3.   Communicate often with your children about your expectations of behavior online and your family values.   Open dialogue with your child is essential for successful parenting online.  Your kids need to know that they can talk with you about any uncomfortable, sticky online situation.  Many kids don't talk to their parents because they are afraid that their computer privileges will be taken away.   Don't over react!  Your job is to teach and guide even when there are difficult situations.
4.   Remember that your kids are not miniature adults and that the part of the brain responsible for good decisions, judgment and impulse control is not fully developed until and adult reaches 25 years old.  Guide and mentor your kids throughout their teen years.
5.   Check-in periodically on your child's computer activity to make sure that your kids are following good behavior practices. As your children show you that they are adhering to good online behavior practices and a "code of conduct" you will be able to check-in less.
6.   When you check-in to make sure that your kids are complying with good behavior practices, make sure you tell them so that you reinforce positive behavior.
7.   Give yourselves a pat on the back for being a good online parent!